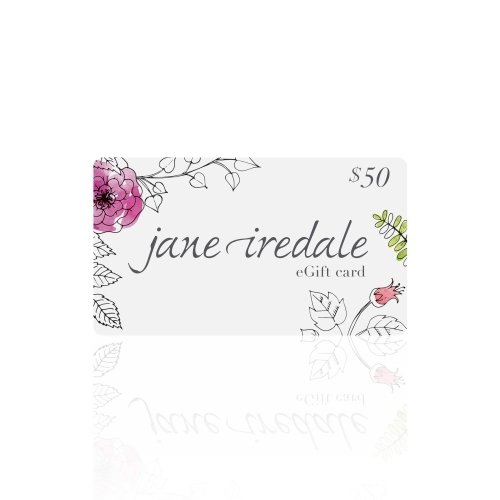 eGift Card $50
SKU GIFTCARD50
Product Details
[tab name="details"]

Friends and family can buy their favorites, anytime. Simply select the eGift card value of your choice, write the name of the recipient and add to bag. You will then receive an email with a code to be used in the coupons area on checkout.
Cards are one time use and do not hold a balance, two cards can not be used on the same order.
eGift cards are only redeemable at janeiredale.ca and cannot be returned or refunded.
[tab name="About eGift Cards"]
How will the eGift Cards be delivered?
You will receive a one time code via email, the card will be attached to the name that you input at time of sale.

How much does shipping cost?
There is no charge for emailing the eGift card.

Where can jane iredale eGift Cards be redeemed?
eGift Cards can only be redeemed online at janeiredale.ca
How do I redeem my jane iredale eGift Card?
- Visit janeiredale.ca and choose the items you want to buy, and add them to your bag. If you need advice or information, please call our helpful Beauty Advisors at 1-877-869-9420. When you have everything you want, proceed to checkout.
- At checkout, enter the eGift Card redemption code you received, into the coupons area.
- janeiredale.ca gift cards do not hold a balance and can only be used for orders over the amount specified on the card, please enter a valid credit card for the remaining balance. The total value on your jane iredale eGift Card will be used first before any amount is charged to your credit card.
Sales Tax
- There is no sales tax on a jane iredale eGift Card.
- Taxes are applied to purchases paid when redeeming jane iredale eGift Cards, according to applicable sales tax in the pronvince where the package will be shipped.


Returns and Exchanges
- There are no refunds on janeiredale.ca gift cards, items can be exchanged, but cannot be returned as funds cannot be returned to the card.

Lost or stolen eGift Cards
Please keep you eGift card information private as we cannot replace a lost or stolen card.
Terms and Conditions
jane iredale eGift Cards are redeemable for merchandise only, not for cash. They have no expiration date and no service fees. Promotional offers and discounts may not be applied to the purchase of jane iredale eGift Cards, nor can the jane iredale eGift Cards be used to meet promotional thresholds.

The use of jane iredale eGift Cards online is subject to janeiredale.ca Terms of Use and Privacy Notice.

jane iredale has the right, in addition to any other available remedies, to close customer accounts or require alternative forms of payment if a fraudulently obtained jane iredale eGift Card is redeemed or sought to be redeemed.

If a jane iredale eGift Card code fails to function correctly, please call our personal shoppers at 1-877-869-9420 so we can investigate any issues.
[endtab]
Save this product for later