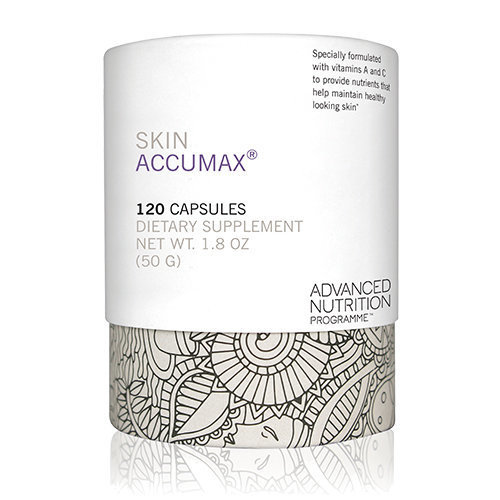 Skin Accumax
SKU AN80905
Product Details
[tab name="details"]
A nutritional supplement for problem skin made with a patented formula of vitamins A, C and E plus diindolylmethane (DIM). Uniquely designed to deliver maximum results. Available in three sizes, including the introductory 14 Week Reset.
Skin Accumax is a nutritional supplement designed to promote healthy skin in order to help clear non-cystic acne and improve problem skin in general.
Suitable for all skin types, it works from the inside to improve the quality of skin throughout the body.* Scientists have blended a specific combination of vitamins with diindolylmethane (DIM), a phytonutrient identified in cruciferous vegetables.
This precise concentration of active ingredients has a powerful effect on the health and look of the skin.* For maximum benefits, four capsules a day with food is recommended for a minimum of 14 weeks.
The Double Pack contains 120 capsules. The Triple Pack contains 180 capsules.
The 14 Week Reset Box includes:
1 Skin Accumax Triple Packs (180ct/each)
2 Skin Accumax Double Pack (120ct/each) Total 420 capsules.
Plus:
1 Skin Omegas Sample Pack (20ct)
1 Limited edition supplements tin
1 Tip Sheet
1 Accumax Leaflet

Not Suitable for:
Women who are pregnant
Anyone planning pregnancy
Breastfeeding mothers
People under 16 years of age
Those under medical supervision. It is important to consult a doctor before use.
Not tested on animals. Manufactured in the UK to certified Good Manufacturing Practices (cGMPs) regulations. FDA registered.
Tips:
We recommend four capsules a day for a minimum of 14 weeks. This is not an over-night solution for acne. It takes several weeks for the body to maximize the benefits of the nutrients.

For optimum results to clear acne, take two capsules twice a day with food.

Once acne is under control, try taking two a day to see if this will maintain skin clarity.

If you miss taking the capsules, don't worry. Continue as normal the following day.

Take pictures of yourself at regular intervals to check your progress. We sometimes forget how our skin looked when we started.

If you are under a doctor's care, you must consult with your doctor before taking Skin Accumax.

Pregnant or breastfeeding women and women who are planning pregnancy should not take Skin Accumax. Otherwise, Skin Accumax is suitable for anyone over the age of 16 years.
[tab name="ingredients"]
Supplement Facts
Serving Size 2 capsules
---
Servings Per Container 60 (120), 90 (180)
---
Vitamin A (as retinyl palmitate)
Amount Per Serving: 1,333 IU
% Daily Value: 27%
---
Vitamin C (as ascorbic acid)
Amount Per Serving: 20 mg
% Daily Value: 33%
---
Vitamin E (as d-alpha tocopheryl succinate)
Amount Per Serving: 14.5 IU
% Daily Value: 48%
---
Diindolylmethane (a compound identified in broccoli)
Amount Per Serving: 37.5 mg
% Daily Value: *
---
Soy Phosphatidylcholine Amount Per Serving: 9 mg
% Daily Value: *
---
*Daily Value not established.
---
Other ingredients: Tricalcium Phosphate, Corn Starch, Silica, Microcrystalline Cellulose, Magnesium Stearate, Silicon Dioxide, Sugar, Gum Arabic, Hypromellose.
Contains: Soy.
Diindolylmethane is a compound identified in broccoli.
NO ADDED dairy, yeast, artificial colors or flavors.
[tab name="vegan/gluten"]
Suitable for vegetarians and vegans
No gluten-containing ingredients have been added to this supplement
[endtab]
Save this product for later